The owner of this Gramercy townhouse is what you could call a creative force. As a fashion industry veteran turned real estate developer, restaurateur, and even Broadway producer, she is both sensitive artist and savvy entrepreneur – the problem is, her home didn't always match that. 
As a family home for multiple generations, the historic 1848 townhouse was dated and lacking cohesion, having seen many functional and aesthetic iterations over the years. Now, with the opportunity to reflect her singular point of view, the client asked us to redesign the interior.
The crucial first step of any project is the design diagnostic. We meet, assess, and understand the client's unique sensibilities and lifestyle, as well as the limits and opportunities within the space. "It's a delicate navigation – not only in accurately interpreting client goals, but what is the most strategic way to accomplish those goals," says Elena. "At Gramercy, we found the space to be well-proportioned, with well-preserved original details intact alongside a sleek architectural interior from a past renovation. In short, the home had good bones." 
We determined the best approach was a well-planned cosmetic renovation: allowing a few key updates to finishes and architectural elements, while investing in custom furnishings, lighting, and artwork that express the client's personality.
Turning focus to the double-height living room, we break down the design elements used to cultivate a boldly feminine, vibrantly spirited home: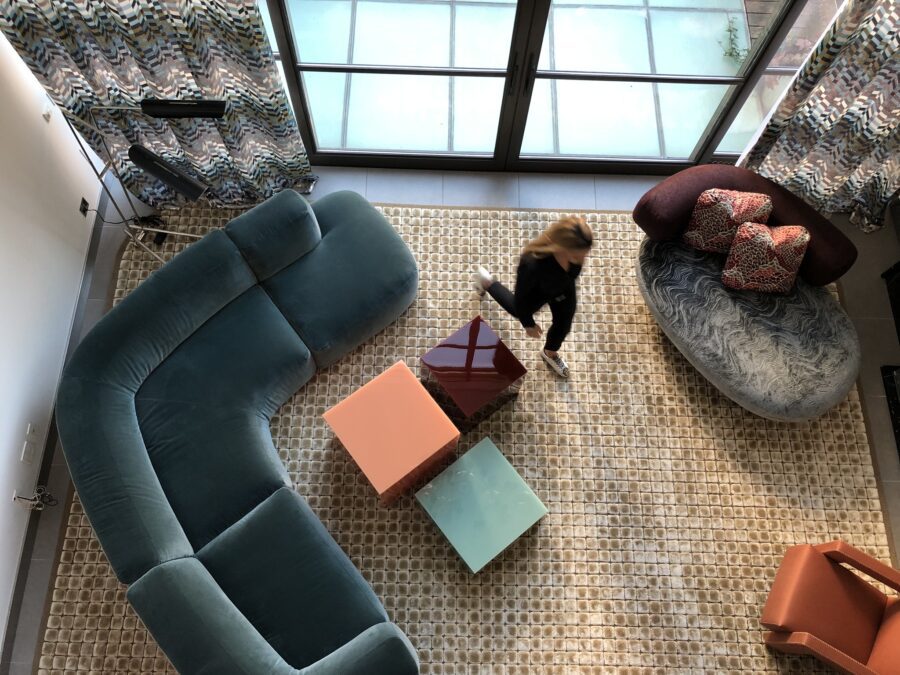 1. Softness
To balance the existing conditions, defined by hard-lined architecture and expanses of glass, we introduced elements of softness in various formats: layout, form, and material. We selected furnishings with rounded, organic, and exploratory forms, arranged in informal groupings for a smooth physical and visual flow. Underfoot, we covered the pre-existing tile floors with a sumptuously plush area rug.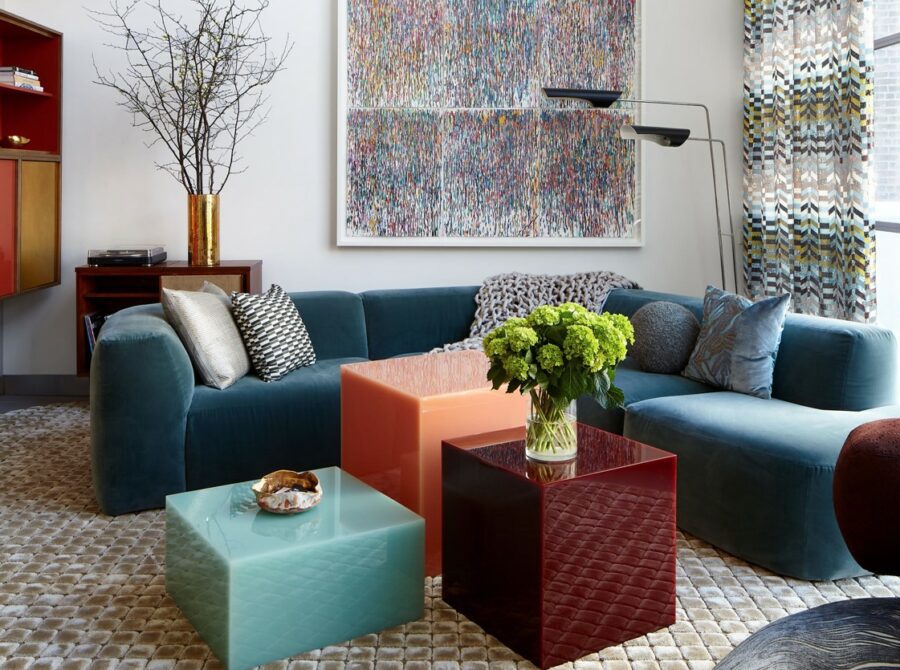 2. Playfulness
This is where the notion of "romantic" meets "rebellious" – rather than design in both directions, we sought to blend the two and cultivate playfulness. The focal point of the room, a grouping of "Candy Cubes" by Rotterdam-based designer Sabine Marcelis, embodies this whimsical quality. With a seemingly magical glow, these cast-resin tables resemble pieces of candy, evoking a sense of saccharine nostalgia. Various heights and shades of peach, mint, and raspberry make a playfully sculptural statement.
3. Drama
A double-height space (and an adventurous client!) calls for a touch of drama. We activated the volume of space with artwork and drapes that draw the eye upwards. To be more specific, we selected 34 yards of shimmering, sequin-embroidered couture fabric for the drapes and 10 'strip paintings' by artist Matthew Satz. Finally, the simple brass fireplace surround felt diminutive within the new scheme, so we installed a new black marble surround that would offset the gold tone and feel classic against white walls.