Having spent her childhood summers on a farm in Michigan, Elena feels a distinct connection to the agricultural history and landscape of the Hamptons. Her local residence, a cottage in Bridgehampton, grows those roots of familiarity and inspiration that much deeper. The East End's ample light and space inspires, providing an essential shift in perspective and connection with nature.
This translates to Frampton Co's ethos: a blurring of boundaries between traditional notions of indoor and outdoor design, thinking about environments holistically and drawing inspiration from those settings to manifest personalized expressions of space.
We're proud to bring our approach to a new Hamptons setting this season: the Galerie House of Art + Design. Read on for how we brought new energy to outdoor design with our bold vision for the sprawling Sag Harbor estate's Sunset Terrace, plus more of Elena's favorite places to experience art and design in the Hamptons. Inspiration abounds on the East End – this, of all summers, is the moment to live in it.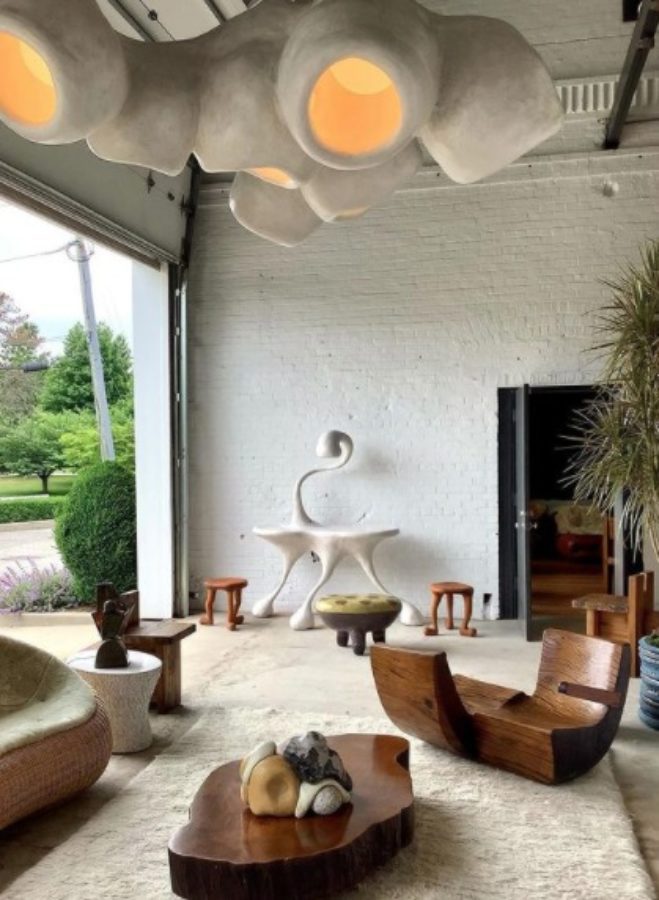 SOUTHAMPTON | Collective by Jeff Lincoln
Our appetite for the *intersection* of art and design is fully sated out East. With lots of spots that operate within these hybrid boundaries, one of the galleries Elena frequents most often is Jeff Lincoln. There's always something new, like works by the likes of Rogan Gregory and the Haas Brothers. It's a timely moment to visit, too, as this summer is their 5-year anniversary!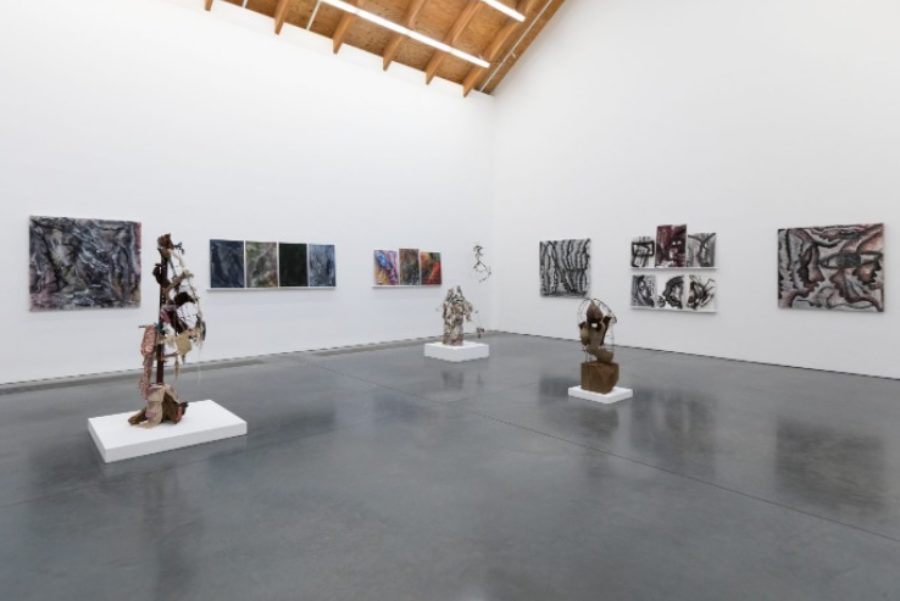 WATER MILL | Parrish Art Museum
The Parrish, with its generous art-filled acreage and intimate gallery spaces, is one of Elena's favorite spots for immersion in The Hamptons' history and creative legacy. We recommend artist and musician Lonnie Holley's current works on view, a compelling mix of painting and mixed-media sculpture collectively entitled Everything That Wasn't White. The Parrish is excellent at celebrating interconnecting Hamptons stories through its exhibits, and this one is no exception: the presentation closes the loop on the Hamptons circle, as the works were created during a residency just last year at the Elaine de Kooning House, located up the road in East Hampton.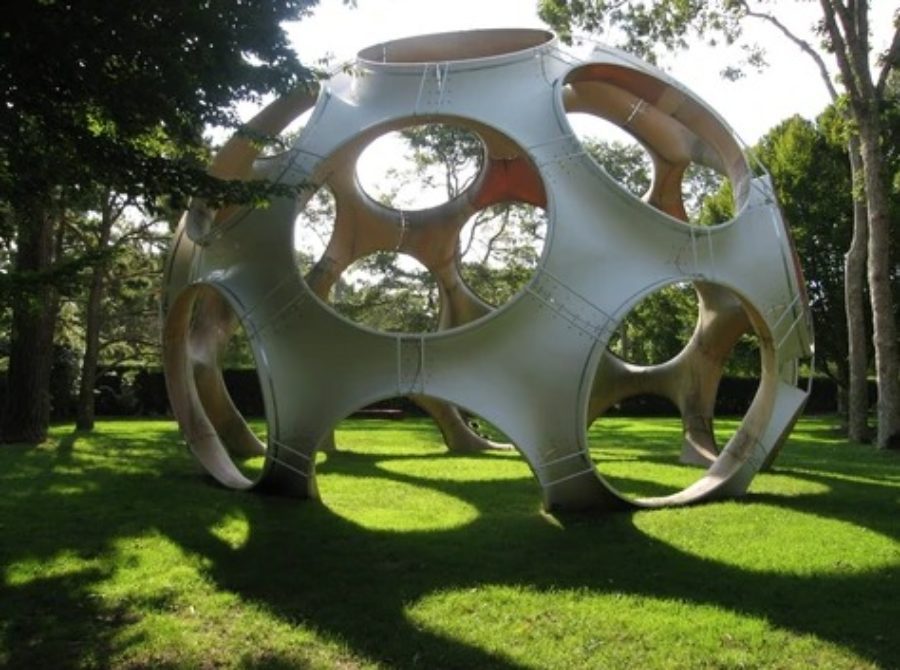 EAST HAMPTON | LongHouse Reserve
The LongHouse Reserve is an absolute gift to the East End, pairing contemporary works by hyphenate artist-designers – like Daniel Arsham's stalagmitic iteration on the classical bronze – with works by old-school icons (futurist architect Buckminster Fuller's Fly's Eye Dome is a gargantuan scene-stealer).
The 16-acre property plays host to these and more outdoor sculptures and land art, with a current exhibition of contemplative textiles and the private collection of founder Jack Lenor Larsen. A tour through the gardens is a peaceful and lovely combination of all our favorites: art, design, the peaceful outdoors, and an expansion of the possibilities for interrelationship between the three.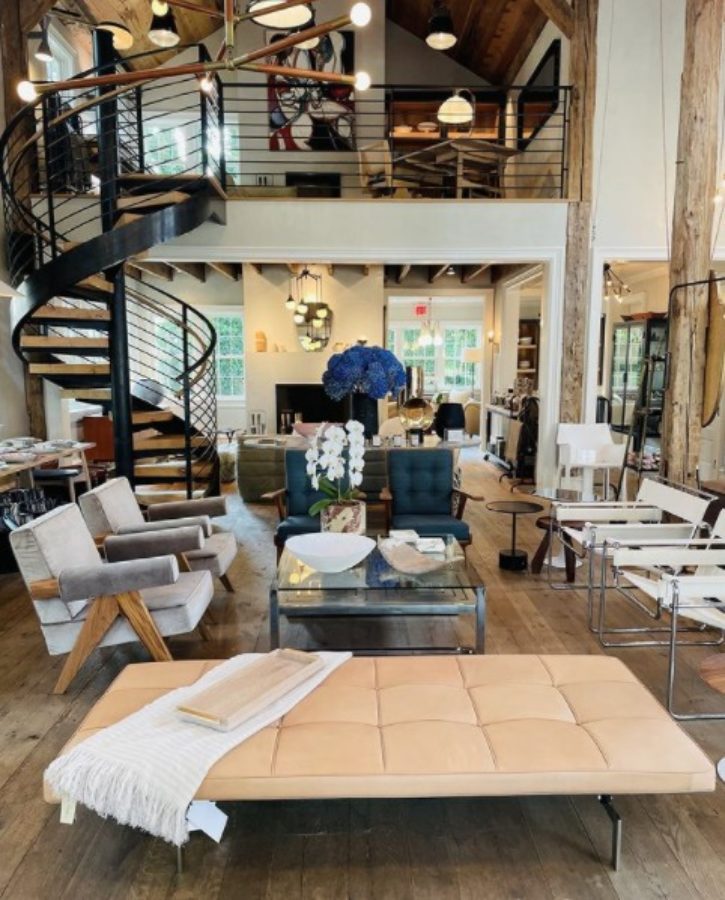 SAG HARBOR | MONC XIII
The eclecticism at this locally owned shop is what makes it one of Elena's top stops for design, particularly in its more "detailed" sense: alongside larger textiles, furniture and lighting pieces, the displays at MONC XIII are a trove of worldly treasures from unique tabletop items to timeless accessories. The inspiring retail experience is curated by former interior designer Natasha Esch, whose globetrotting sensibility speaks loudly as you rove through the shop's two levels of vintage and modern objet.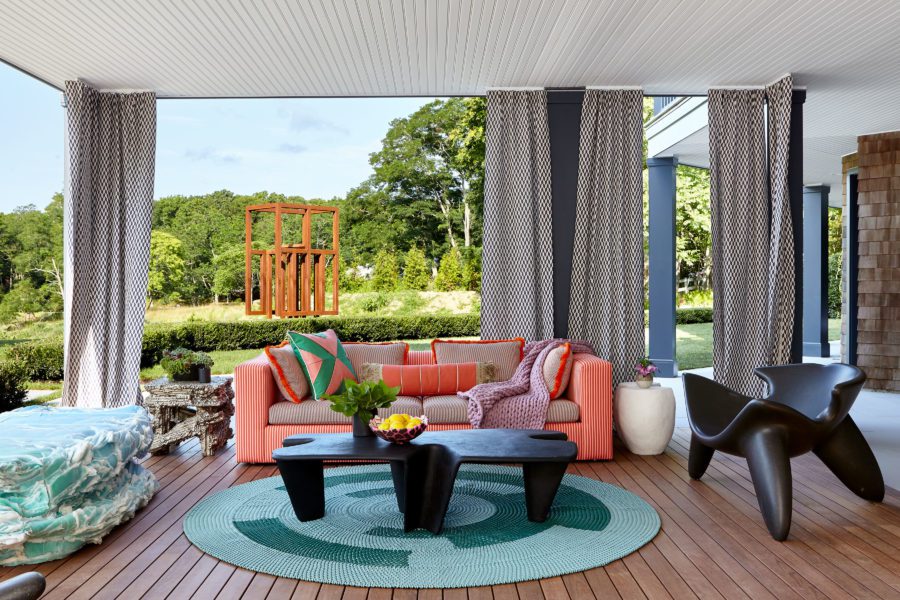 SAG HARBOR | Galerie House of Art + Design
Shameless plug alert! We are honored and delighted to have been handpicked by the editors at Galerie to design a room for their inaugural House of Art + Design. As one does, we dove right into the "great outdoors" of this concept house, decking out its Sunset Terrace with one-of-a-kind works of art and design. Our scene totally abandons any idea of the traditional "patio set,' instead showcasing how custom, artful elements can meet comfort and function in every level and layer of our designs.
Snag your tickets early to join us at the first-ever Galerie House of Art + Design, where our vision and others will be on view August 7-29.