As art fanatics by nature and by trade, we spend a lot of time digging through the vaults of galleries, visiting studios, and combing through the treasures of the fairs – with our eye out for the hidden gems. On the heels of Future Fair's inaugural physical show, and the long-anticipated Armory Show's exuberant return to New York, Elena shares the timely themes she found on display, along with standout works and insights to take into this renewed artworld season.
Being & Illusion
A live energy and sense of being ran through the fairs –  across different galleries, mediums, and eras, works engaged with space and the viewer, whether through imposing physical form or optical illusion.
Ernesto Burgos was one such artist, whose plywood, fiberglass and resin works blur the line between painting and sculpture. Burgos' painting substrates curl away from the wall, casting shadows that then become part of the experience of the work, boasting of depth and dimensionality.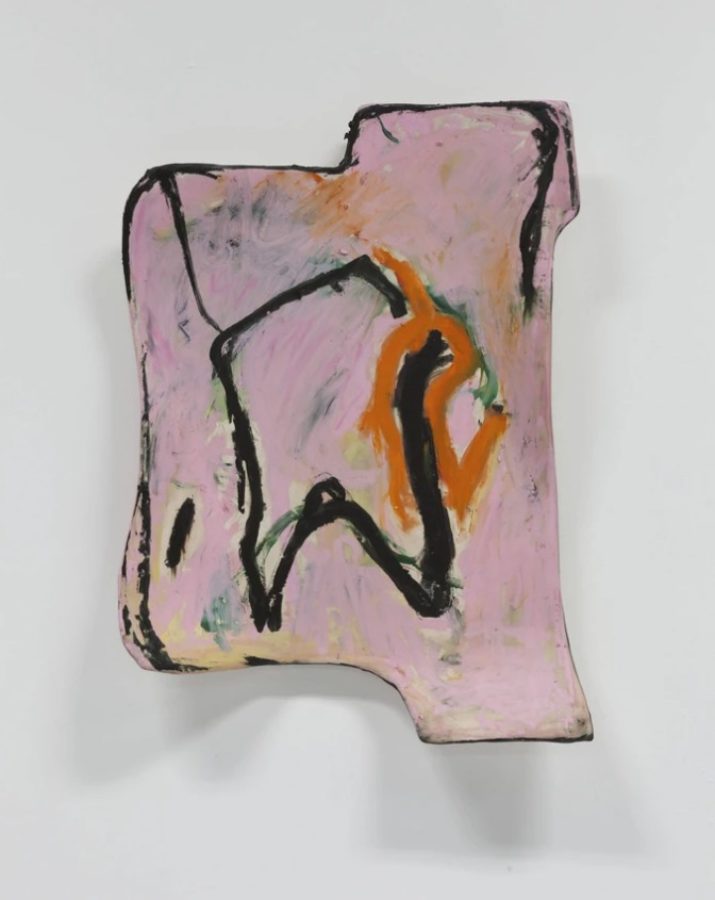 Ernesto Burgos, "TBT" (2021)
Gregory Halpern's photographs on the other hand, are two-dimensional works that register as three-dimensional to the eye. Works from his ZZYZX series show Los Angeles and the surrounding desert in a singular light – one that is at once harsh and transcendent, and casts a fantasy-like quality over the depth of field and composition. Engaging the viewer with presence and dimensionality, one feels almost able to step through these scenic portals to a California dream-state.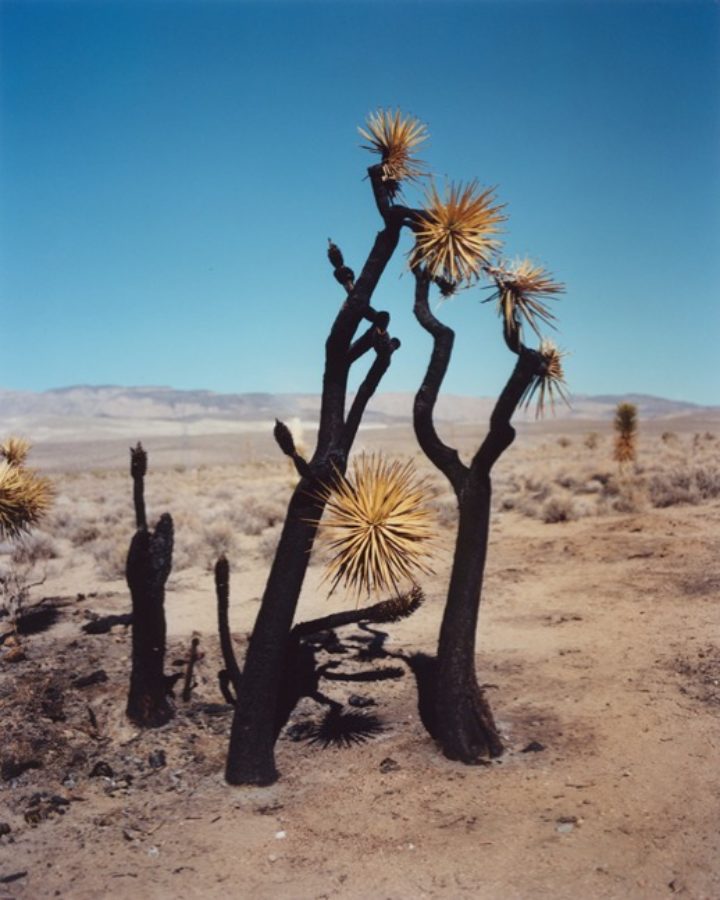 Gregory Halpern, from the collection "ZZYZX 02" (2016)
Karen Carson's Right Angle makes clever use of gravity and construction with textiles that peel back from the wall and draw the eye into a near-indecipherable artistic occasion – a gloriously surprising departure from the typical vertical plane. Part of her 1970's zipper series, these early works introduced human intervention into the austerity of male-dominated minimalism. With the simple act of inviting viewers to pull and rearrange the shapes as they desire, Carson embraces the geometric simplicity of the time while simultaneously dismantling it.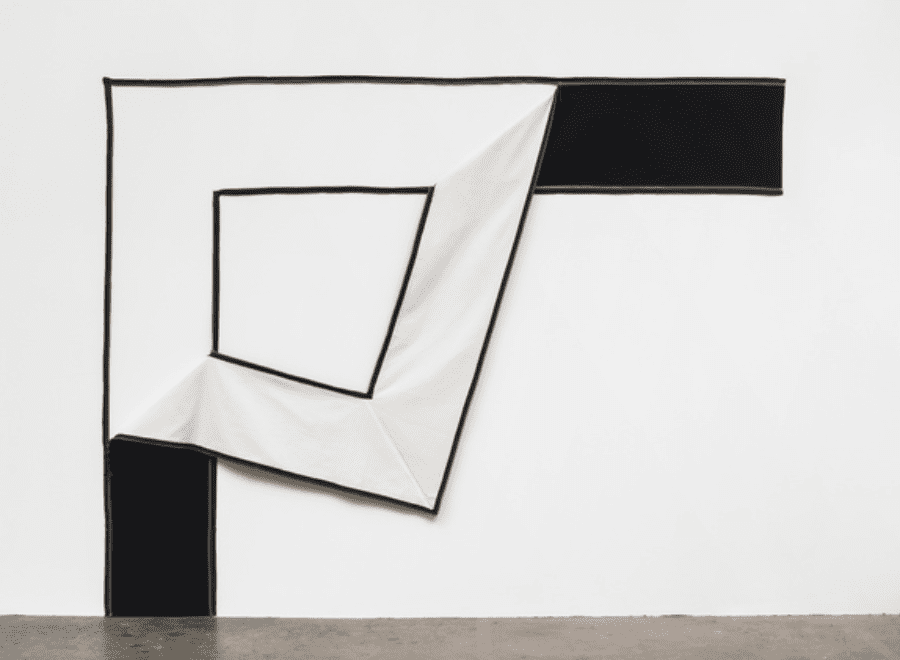 Karen Carson, "Right Angle" (1972)
And as usual, more is more for us when it comes to *layering*. The works of painter Kate McQuillen present layers upon layers of acrylics to create optical after-effects. The result is pure psychedelia, with her simulated RGB color spaces acting like Rorschach Tests that leave surreal, far-from-stagnant lasting impressions.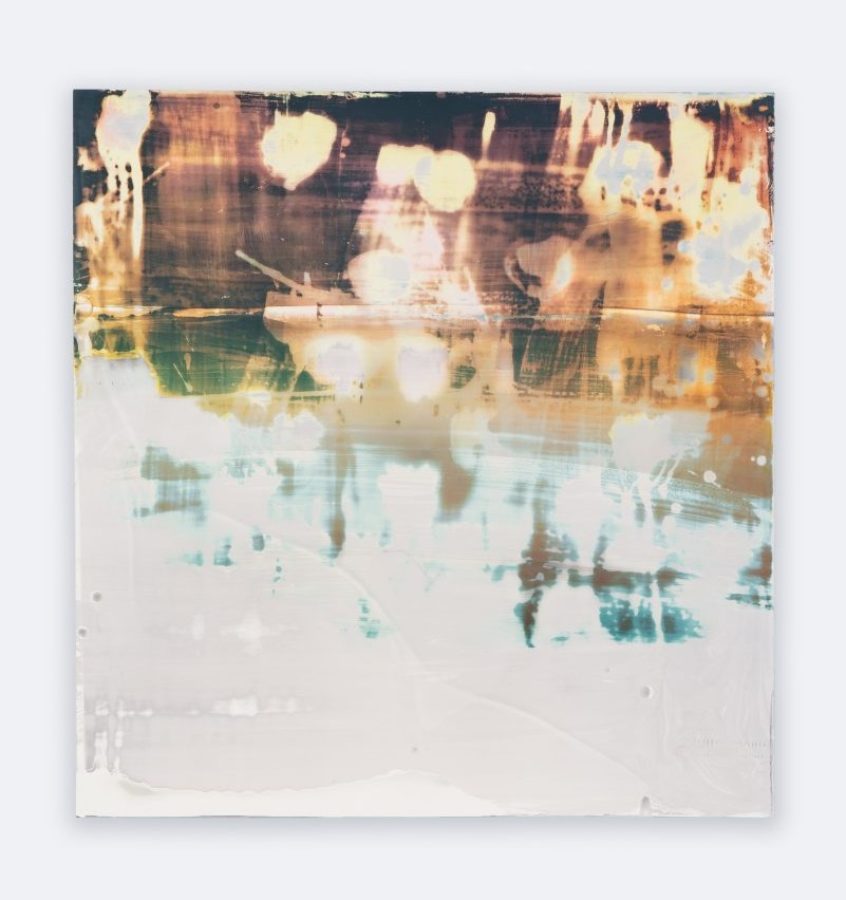 Kate McQuillen, "The Frothies" (2020)
Feminine Expression & Craft
An abundance of textured, narrative-rich works explored traditionally feminine themes and mediums. Complex and multi-layered, these works spoke of softness and meditation, with a focus on the human experience through a distinctly female lens.
A familiar artist (check out her work in our Madison Avenue Project!), San Francisco-based painter Clare Rojas explores gender roles and our emotional relationship with our environment through both abstract and figurative works. At the Armory, SOCO Gallery presented a solo exhibition of new, color-saturated paintings and works on paper taking inspiration from folk art and the natural world.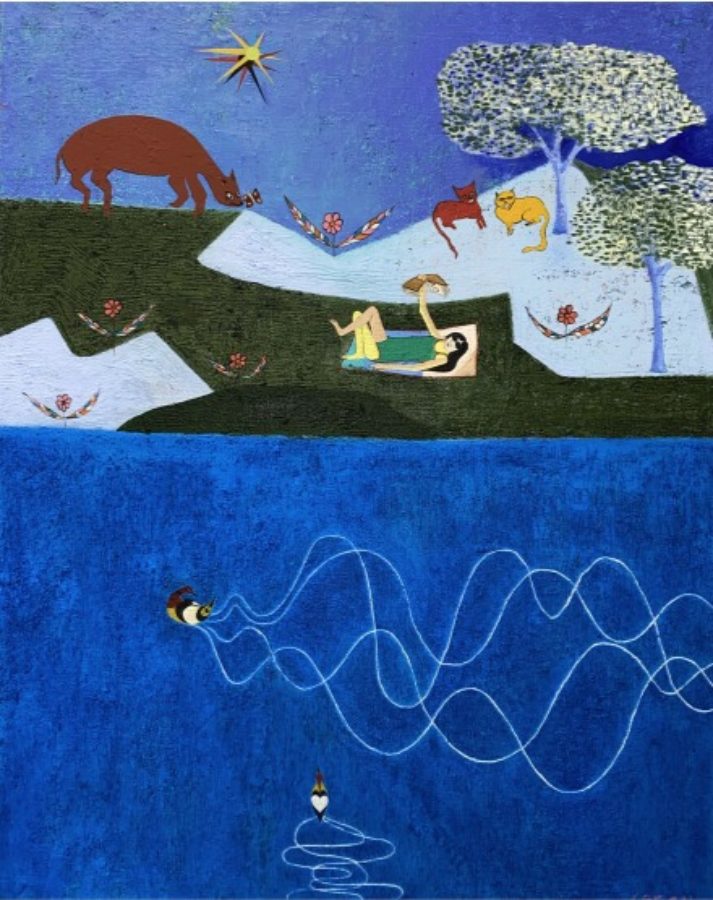 Clare Rojas, "Woman Sunbathing" (2021)
With her series "Musing," artist Sheree Hovsepian goes full-on multimedia, using materials such as string, ceramic, nails, and wood alongside photography to create abstract and unconventional collage, whose intrigue lays in its sense of imperfection. The works explore politics of embodiment, and myriad ways framing impacts our perception.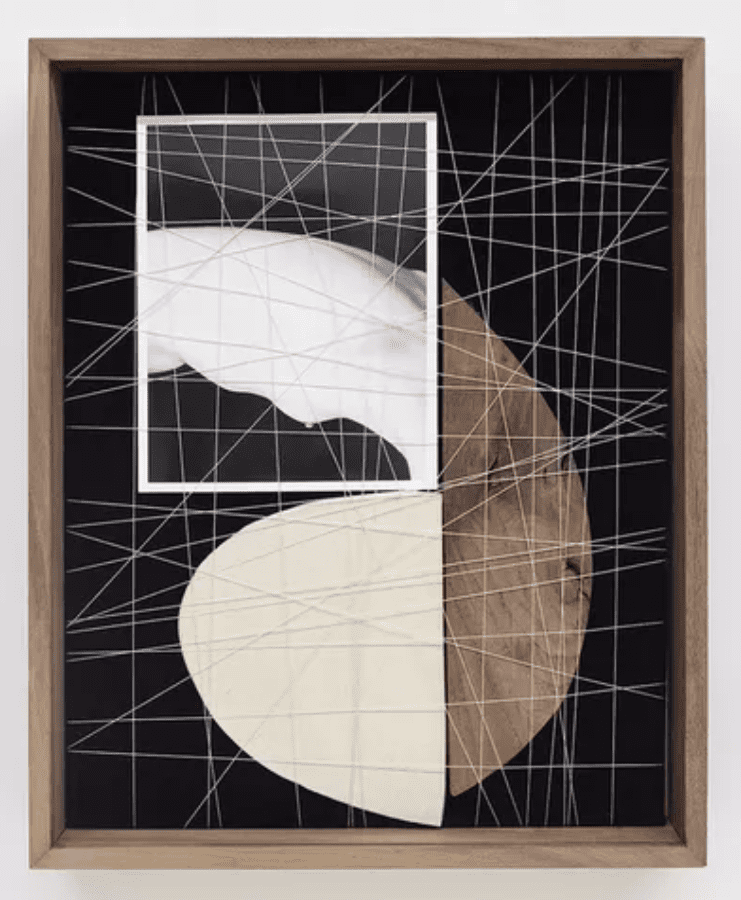 Sheree Hovsepian, "Poser" (2020)
Textiles reigned at the shows! Wool and cotton were prominent in wall works, especially; for example, in artist Miranda Fengyuan Zhang's Three Mountains, in which fresh uses of color-blocking took on lithe, natural forms. The exuberant work was made entirely of hand-woven cotton, with various fabrics' hues employed to create the topographical shapes.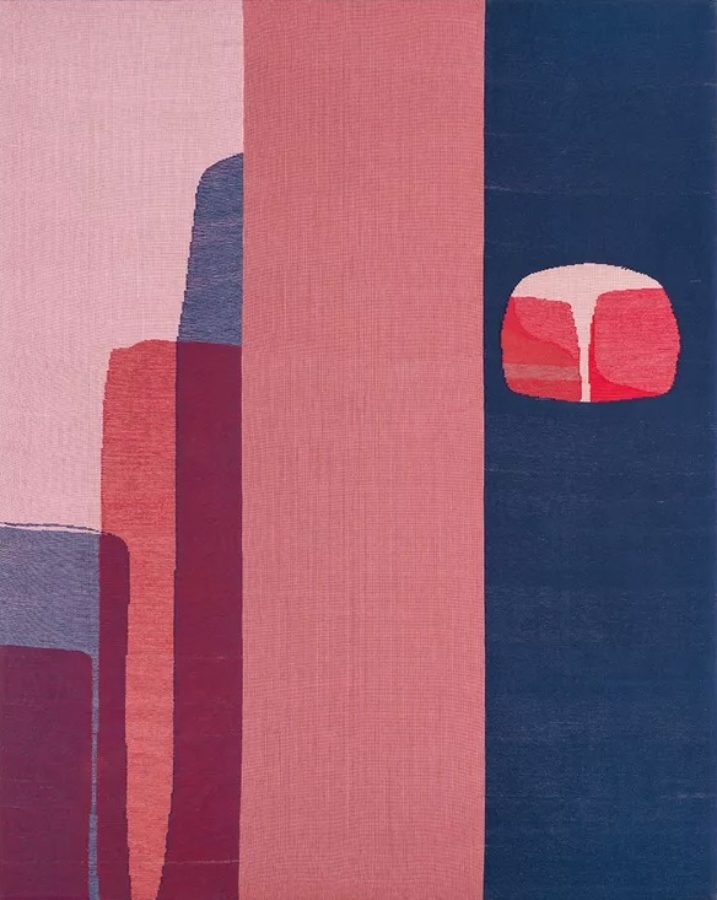 Miranda Fengyuan Zhang, "Three Mountains" (2021)
Bringing fresh perspectives to the traditional craft-based technique of collage, in her piece called Biking, artist Sarah Crowner sewed together pre-painted pieces of canvas and linen. The (re)construction reveals a pattern of intriguing, buoyant configurations – a nod to the hard-lined color paintings of the 1960s, with a lively and more pliant spin.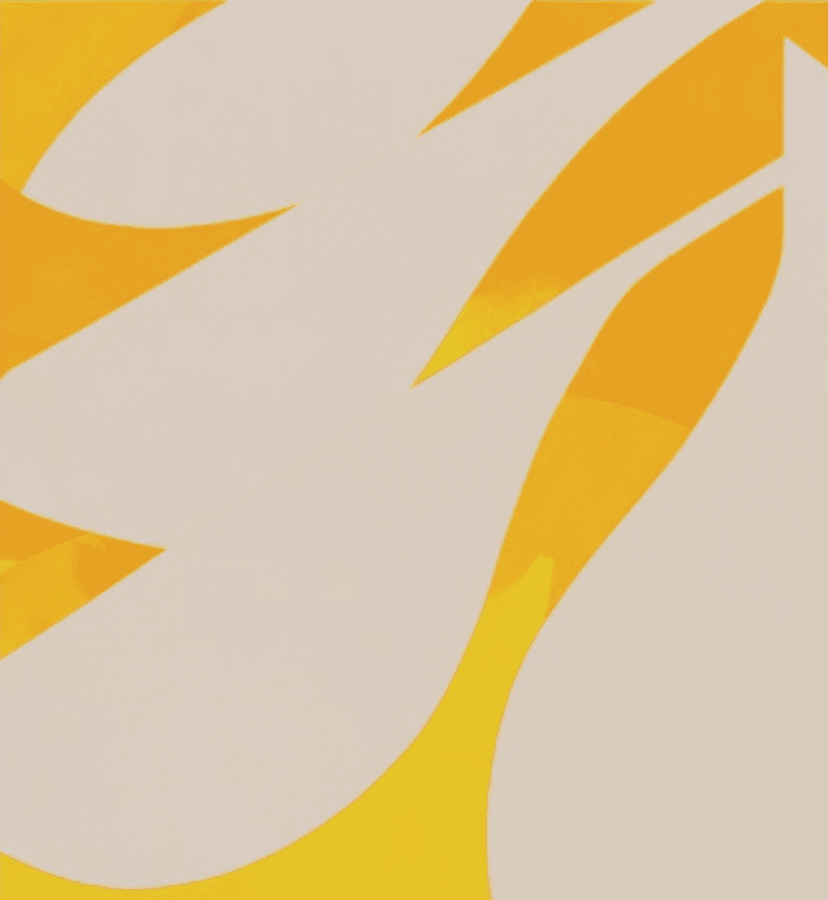 Sarah Crowner, "Biking (Yellows)" (2021)
In a more abstract vein, Martha Tuttle's Flower Petals, a delicate work, was made using wool and silk alongside graphite and (most excitingly!) marble dust. There is an understated femininity to the piece, identifiable in its supple layering of materials and in the connotations given by its titling: the painting suggests softly imbricated petals, a subdued illustration of the natural world.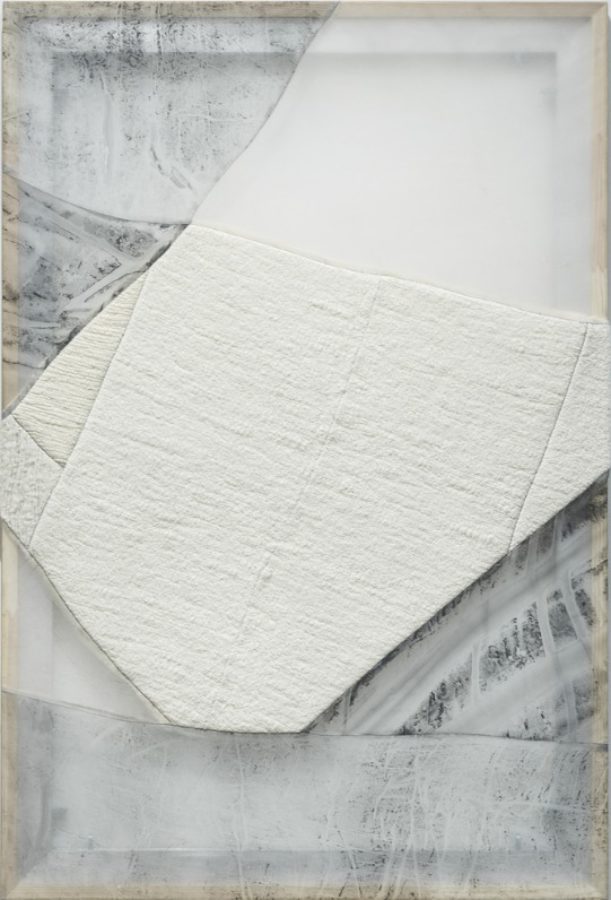 Martha Tuttle, "Flower Petals" (2021)